We were recently sent the Polaroid Cube+ lifestyle action camera to test out and review. The Cube+ is a tiny weatherproof, shockproof and mountable little camera that can record 1440p HD video, with a 8MP CMOS sensor, 124° wide angle lens, and built in battery that records up to 90 minutes. The Cube+ also connects to your mobile device via Wi-Fi to easily shoot, view, save, print and share your captures!
The Cube+ comes with an 8GB micro SD card, a micro-USB to USB cable, a rubbery case, a small carabiner, and a cord that can be used in conjunction with the Bumper Case. Standing at just 35 millimeter or one cubic inch, the Polaroid CUBE is tiny and super light. The boys love its size and I like that they can borrow it and capture their adventures as they see them. I don't have to worry about them being too rough because the camera is shockproof, splash proof and weatherproof.
I liked that the Cube+ was set up and ready to use out of the box. It came charged and all I had to do was install the SD card to begin recording/shooting. No need to wait for it to be completely charged to use for the first time.
The camera is equipped with a 124° wide-angle lens, I love wide-angle shots and the video quality is great. You can set it to record at 1440p, 1080p, or 720p. I tested it both outdoors and indoors during the day and with artificial light and I was pretty impressed with the video quality. The photo quality is o.k. but a bit grainy if shooting indoors with low light.
The Polaroid Cube+ can connect to your mobile device because it has built-in Wi-Fi connectivity. You need to download a free app and after connecting your device to the camera you can turn your mobile device into a viewfinder and shutter remote good from up to 30 feet away. The app offers other features including time delay, photo burst, time lapse and slow motion camera. Viewing, editing, saving, printing and sharing photos on social networks is also available via the app.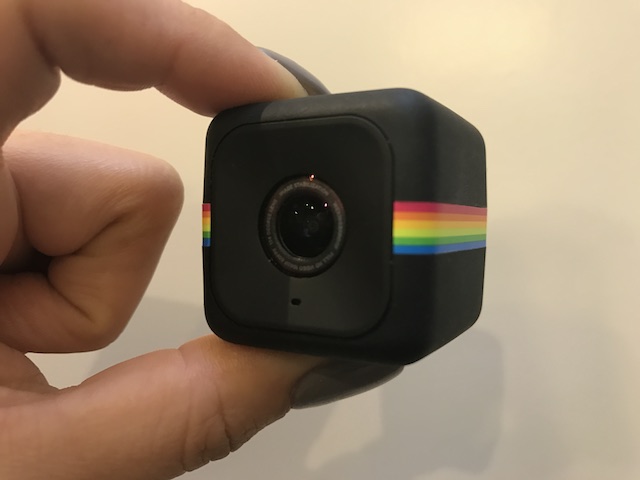 At the bottom of the camera there is an integrated magnet that can be used to pop the camera too any metal surface, like a helmet, skateboard, bike, etc. Great way to mount it without the need of extra mounts or bands, etc. There are specific mounts available for the Cube+ but I like that you can use the magnet when you are on the go and don't want to carry extra apparatuses.
So far we are really enjoying making videos with the camera and I love the freedom of having something so small that fits in my pocket. Sometimes I don't want to use my phone to record videos and having the little camera available has been great. The wide-angle lens also allows for extra cool captures and the boys love using it as well.
Features:
Wi-Fi enabled
Image stabilization
HD 1440p video
8MP camera
124° wide-angle lens
Weather proof
Records up to 107 minutes
35mm x 35mm
microSD up to 128GB
Price:  $199.99
Our Sample Videos Shot with the Polaroid Cube+
Disclosure: This is a partnered post with Polaroid. A product sample and/or compensation has been received for this review and all opinions and views on this post are 100% my own.