We have made it to the beginning of October, and temperatures are dropping. I love the crisp air and the beautiful colours of this season!
The colder temperatures mean that we need to start wearing more layers and getting our warmer clothes out of the storage bins. But, if you are tired of the same old jackets and sweaters and want a closet refresh that won't cost you an arm and a leg, this post is for you!
Keep reading.
Today I am sharing some must-have items if you want to add some cute, cozy pieces to your fall/winter wardrobe. I am showcasing a little bit of everything, from a super warm, cozy puffer coat to a lighter but still water-resistant jacket to cozy and warm sweaters. I am even featuring a Disney piece that you can't miss if you are a Disney fan.
This has to be one of my new favourite puffer coat. The pink colour is so cute and cheerful, it isn't an overwhelming bright pink, it is softer, and it goes with so many clothes. It is not super bulky, and it is very warm, perfect for a colder fall day and the winter! The pockets are lined with soft and warm faux sherpa. I love this coat. I am wearing a size small here for reference.
To buy: Pink Puffer Coat
Looking for a warm, cozy, non-bulky puffer? This water-resistant packable hooded puffer is perfect for the fall. I can see myself wearing this one a lot! It fits very nicely, and it goes with a pair of jeans and boots. Perfect fall outfit.
Great jacket for travel if you need to pack it and fit it in a small suitcase! Wearing a size small.
To buy: Puffer Jackets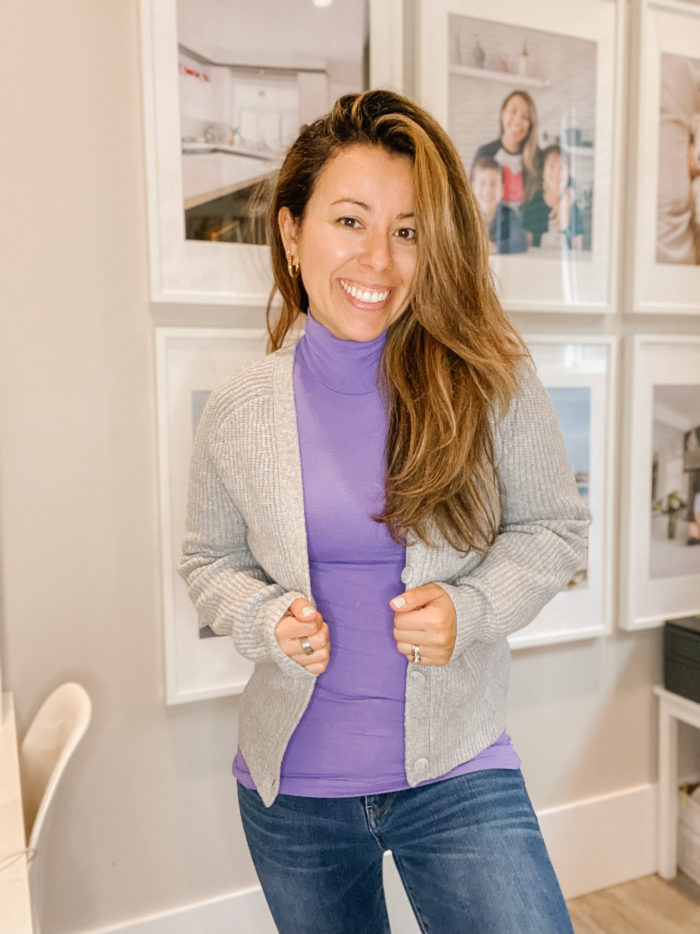 I love buying cardigans, and they are so versatile! A grey cardigan is a staple, great for layering, and it goes well with so many things. You can wear this one on its own or with a white tee underneath or a turtleneck like I paired it with here. Super cute and cozy! I am wearing a size small.
To buy: Grey Cardigan
If you know me, you know my love for everything, Disney. I have been missing Disneyland/Disney World so much! Not being able to travel for so long has been challenging, and I can't wait for the day we can return to the Happiest Place on Earth! But for now, I love this super cozy and cute Mickey Mouse Pullover Hoodie. I wear it with some comfortable leggings for a relaxed look, or with some jeans. So soft and warm. You won't be disappointed. My fave! I am wearing a size small.
To buy: Mickey Pullover Hoodie

I am one of those people who is always cold, so when the air gets crisp and the temperature drops, I am the first to be wearing cozy sweaters. This one is super cute and warm, and I love wearing it! So soft to the touch, and it fits so nicely. I am wearing a size small.
Buy it: Crewneck Sweater.
I hope you loved my fall/winter picks. Let me know what you think below and if you have any questions.
Last but not least, I had to add these to the list because they are my new favourite find for this month! Perfect when I work on the computer or when I'm on my phone! Super affordable too!
Buy it: Clear Blue Light Blocking Glasses.
Disclosure: I am an Amazon Fashion ambassador, and I receive gifts and perks from Amazon. This post contains some affiliate links.