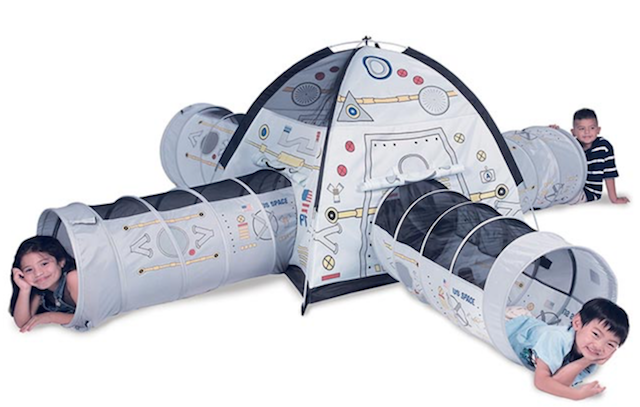 Looking for a collapsible tent, tunnel, parachute or play house for your child? Creative, imaginative role-play is a favourite at our home, and Pacific Play Tents offers the best high-quality kids' play environments designed to promote little one's imagination and creativity. Their tents and tunnels are larger in size than other products on the market and can be used indoors and outdoors, many of them are even waterproof.
[wonderplugin_gallery id="16″]
We received the Space Station Tent and Tunnel Combo to try out, and the boys have been loving having their own "Space Station" right in our living room. Setting it up was super easy, I followed the instructions that came with the tent, and it took me about 2 minutes to put together, same when it was time to put it away.
I love that after the boys are done playing everything goes inside this small carrying case that is super easy to store.
The Space Tent is built to last and perfect to sustain my kid's rough play. The cool graphics on the outside of the tent make it realistic, and the boys spend hours playing when we set it up. I love that
I love that the tent includes four tunnels, so there's lots of room for the boys and their friends to join in and play together. I also like that the tent has a water-proof floor. The boys take their snacks inside sometimes and cleaning after they are done playing is super easy.
Having a small place means that we don't have a lot of space to set up permanent play areas or indoor play structures. Collapsible, easy to store forts solve that problem and they are lots of fun to play with. The Space Station is good for both the indoors and outdoors, and it is available online at Pacific Play Tents for $138.95.
Disclosure: This is a partnered post with Pacific Play Tents. A product sample and/or compensation has been received for this review and all opinions and views on this post are 100% my own.