Have you ever wanted to make a book but didn't know where to start?  Blurb.com BookWright may be the answer.  I was given the opportunity to review the BookWright book-designing software from blurb.com and am so excited to report that it was EASY to use and the finished printed book exceeded my expectations.
My mother likes the vegan recipes I make when I visit her so I thought a cute Christmas gift would be to make her a proper cookbook of our favorite recipes.  Creative publishing platform Blurb let me design a personalized cookbook, tailored to our nutritional needs and favorite eats.
I downloaded the Blurb recipe books template for BookWright (a software piece that installs on my desktop that makes the design process extremely easy).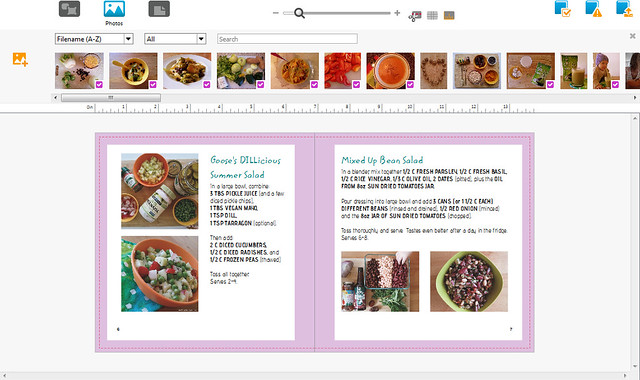 The template allowed me to add my pictures and text exactly how I wanted, but with safeties in place so I didn't screw up the formatting.  Warning windows pop up when text exceeds page parameters and when photos are not high enough resolution to print correctly.  Before the book heads to the printer, BookWright checks for spelling errors and formatting issues so you can be confident the book will look great on the other side.
Disclosure: I received a sample of a product to facilitate my review. No other compensation was provided and all views and opinions stated on this post are 100% my own.
Once my cookbook was finished, the checkout process was so simple to order softcover copies to gift to my mom and other family members.  At checkout, I was given the option to add a free ISBN code on the back of the book to sell my book in the Blurb Bookstore.  While this book was really intended for personal use, it doesn't cost me anything to add it to the marketplace, so I decided to list it there.  In addition to offering the book in softcover, Blurb even allowed me to save my creation as a sellable PDF file.  If I wanted, I could have also saved my book as a rich media ebook, incorporating videos, audio files and live web links to make my recipes really exciting.  Pricing starts at just $6.95.
A few days after placing the order for the softcover copies of my cookbook, they arrived in the mail better than I expected.  The pages are thick and slightly glossy.  The pictures are crisp with bright colors, and the formatting looks very professional.  I have absolutely no complaints about the functionality of the website and software or my finished product.  I really enjoyed the entire experience and I think my mom will enjoy her copy of the book.
BOTTOM LINE: If you want to self-publish a great looking book, I recommend using blurb.com and working in the BookWright program to make the process as simple and fun as possible.  Besides cookbooks, Blurb.com books are perfect for displaying your best travel photography, wedding memories, baby milestones, etc.  The possibilities are endless.