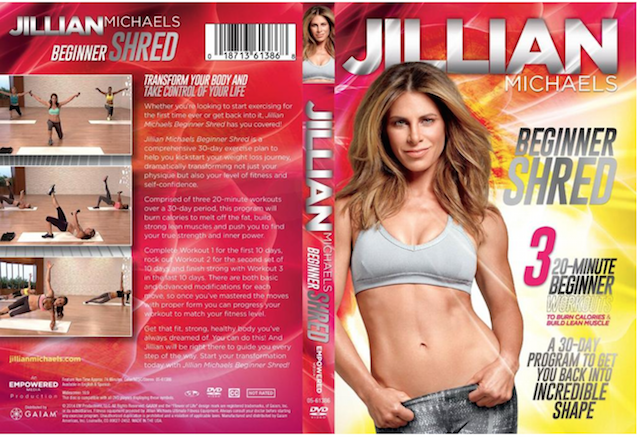 Pamela Chan, Contributor
Ask yourself.  What was your reason for clicking on this post?  What is your intention related to your fitness goals? Why are you considering exercise videos?  Give yourself a pat on the back for taking that first step to inform yourself about your options.
After using Jillian Michaels' Beginner Shred DVD for the first and second of three workouts – this is my take away of how Jillian talks to the viewer.   I mention this right away because beyond all of the benefits of using the DVD and how Jillian has designed the programme, what will keep you coming back is how Jillian understands the challenges beginners face.  She motivates you to just try and keep going.
Back in September of this year, I attended a conference for women where a speaker mentioned that sometimes it's OK to let your children use electronics while you go off and use your Jillian Michaels' DVD for some "me time".  I've heard of Jillian, know about her shows and have seen her on YouTube discussing women, leadership and life coaching topics with Tara Mohr on her Daily Dose show.  At the time I asked myself "I wonder why she likes Jillian's videos in particular?".
A few weeks ago I found one of Jillian's DVDs at a greatly reduced rate in a discount store that was going out of business.  "Perfect", I thought.  "Now I can see what Jillian's videos are all about."
I never cracked the blister.
When I had the opportunity to review this DVD by Jillian, I knew that I had to try again.  I knew that I would be forced to actually open the DVD and try it.
What you Receive
The Beginner Shred DVD includes three 20 minute workouts.  If you've ever made it through an intense 60 minute workout in a gym, you'll know that in real terms 20 minutes really isn't that long.  As Jillian says in this DVD, the programme has been designed so that you get as much as possible out of the 20 minutes. Each workout should be used for ten days before you move on to the next workout level.  On the DVD menu there is a section in which a recommendation is shared saying that you need to use the DVD for five days a week.  If you went on this schedule, it would take you six weeks to complete the three stages of the DVD.  If you didn't want to take a break, you could finish the 30 day programme in one month.
What You Need
In addition to the DVD, it is a good idea will need 3- 5 pound hand weights and a yoga style workout mat.  I used a reversible dark purple/mauve mat by Gaiam. A thicker Pilates mat would do as well.  There aren't long tracks of cardio  so the latest and greatest expensive light running shoes are not necessary.  However, you should wear comfortable running shoes that will give you good support.
You could feel heat coming on as you do these videos, so you might need a towel.  I wore a t-shirt designed for exercise that copes well with sweat.  I strongly recommend wearing this type of attire when you exercise.
While completing the full workout, you will move quickly from exercise to exercise.  It would be difficult to work in swigs of water; however, a water bottle could still be a good idea.
My Thoughts
Each workout stage is progressively more difficult as you move quickly from exercise to exercise.  The workouts consist of a warm-up routine and cool down stretches.  In between the sets of exercises are completed twice.  For exercises that focus on one side and then another, it is best to always start with one side.  That way when Jillian says "switch to the other side", you will remember which side to do next. (I discovered this from trial and error.)
I watched the whole DVD before trying the exercises.  It is helpful to have a feel for the format of the exercise programme and to start to take note of breathing suggestions and tips on positioning your body.
As you use the DVD, it is important to pay careful attention to when you breathe in and out.  Jillian also provides information about how to position parts of your body and how to move your body during an exercise.  She will also provide cautionary notes about what not to do.  Be careful about positioning your knees at the right spot in relation to your feet.
There are two other women shown on the DVD who help to demonstrate the exercises.  One is completing a simpler version of the exercises and the other is completing more complex moves.  Sometimes Jillian will encourage you to try a few of the more complex moves.
There are times in the video when Jillian admits that she is not at all flexible and can barely touch her feet. It is reassuring to hear a famous fitness instructor admit that there are skills with which she still struggles.
Throughout the video, Jillian takes the time to focus on motivational conversations.  She speaks to the viewer on the other side of the screen and even comes close to the screen to drive home a point.
It can be easy to find reasons to disconnect from a fitness plan or simply not show up.  Jillian's engaging way of speaking with the viewers helps to make you commit to coming back for another round.
I am fairly uncoordinated and not in the best of aerobic shape; however, it is not intimidating for me to try these exercises. I usually find that abdominal work means that my neck will feel strained.  While using this DVD, and following Jillian's positioning tips, I didn't feel that my neck was being strained.  I also like the fact that there isn't endless and exhausting cardio on this DVD.  I feel tired but not wrecked after the workouts, they only take 20 minutes and Jillian works in a lot of hand weights.  I believe that mat work and hand weights are a good way to get into shape while completing useful strength training.
I have had the chance to try high intensity training exercises and have a vague understanding of what different schools of thought about exercise involve.  Jillian has chosen an interesting combination of exercises that appear to work out different parts of your body at the same time.
Once you have worked your way through the three workouts, you could continue to use the programme or move on to one of Jillian's other DVDs.  She also has a fitness and nutrition programme that you can access via the Jillian Michaels app. (For more information, see her website.)
Going to the gym to use a membership is not a possibility for me right now. I also have a fair amount of pilates and other DVDs sitting on my shelf that never get played.  Although I find it surprising to admit, I would be interested to keep trying out Jillian's circuit training style in this DVD.  Her ability to make me feel like she's speaking to me directly about my progress with her DVD is appealing.
If you're thinking about starting up an exercise programme – or perhaps trying a new one – I would highly recommend the Beginner Shred DVD.  It could even be useful to more people who have more advanced exercise skills.  It's a way to refine your movements and reconsider how and why you are doing specific exercises.
I really needed to and want to get back on the fitness treadmill.  I feel that Jillian has inspired me to make a move and just go for it. If you're like me and you can find easy excuses to not continue with an exercise programme, try out the DVD for at least three days in a row before the excuses are allowed to creep back into your head..  At that point your interest to keep up with the programme might drown out the voices in your head that are saying "I'm tired", "I feel a cold coming on" or "I'll do it tomorrow".  It is also a good idea to have a goal in mind to answer Jillian's challenge to remember why you showed up to try her exercise programme.
What's my motivation for trying this DVD?  It's partially about being healthy, more toned and flexible.  I realize that every year that you get older, your agility skills become weaker as you use your body in less complex and challenging ways.  I would like to regain some of my agility capabilities.  Mostly, however, my motivation is in response to judgmental attitudes from people who I do not consider to be sympathetic and supportive.  It's a bit of a rebellious motivation but it's VERY inspiring and works for me.  What motivates you? Give it some thought because Jillian explores the psychological side of exercise in this video.  It's an important topic that will help to keep you going as you begin your exercise journey.  Good luck!
Related
Jillian Michaels' website
Jillian Michaels' Facebook page
Jillian Michaels' Twitter page.
Disclosure: I received a sample of a DVD and yoga mat to facilitate my review. No other compensation was provided and all views and opinions stated on this post are 100% my own.