I love everything about making my infant's baby food. I know exactly what I am feeding him and I am able to ensure that the food he eats is clean, organic, with no salt or artificial ingredients as all ingredients were picked by me. Hearing about recalls on jarred baby food makes me cringe.
For making my son's meals I was using our baby bullet blender that I purchased for our first son three years ago, that's until I received the Baby Brezza. The Baby Brezza Food Maker is AMAZING. I haven't used our baby bullet once since I received the Baby Brezza.
The Baby Brezza is a one step baby food maker, it allows you to steam and blend fruits, veggies, meats and fish all in one bowl and with the press of a button. It means you can set it up and walk away! No messy clean-up, no steaming food in the stove and then transferring to a blender. Any tool that saves me time is great!
The Baby Brezza is super easy to set up and to use. You just add water in the reservoir, add the ingredients, set the steam time and the machine does all the work. You can have it steam and blend or just steam or blend alone. I just usually set it up to do both.
I also LOVE that I can defrost previously frozen food by steaming it in the Baby Brezza. I just put the cubes of frozen food in it, set it to steam and walk away. Way healthier than microwaving it!
The machine is safe, BPA/Phthalate free and super easy to clean. The bowl and blade are dishwasher safe and I enjoy not having to clean extra dishes and pots. It's also safer to not have to transfer hot foods from a pot to a blender in the middle of the cooking process.
Here's a little video of how I made my son's apple sauce using the Baby Brezza. It took me 3 minutes to prepare and set up and 15 to steam/blend. And here's a fast, easy and nutritious recipe I have been giving my 8 month-old. He LOVES green beans and apples!
Green Beans & Apple Puree
Yield: approximately 1-1/2 cups (13 ounces)
Ingredients
* 1 medium apple, peeled and cut into ¼-inch dice * 1 cup of fresh or frozen green beans
Instructions
*Steam apple and green beans for 20 minutes using the Baby Brezza.
*Blend
*Remove from bowl and wait for it to cool down
*Serve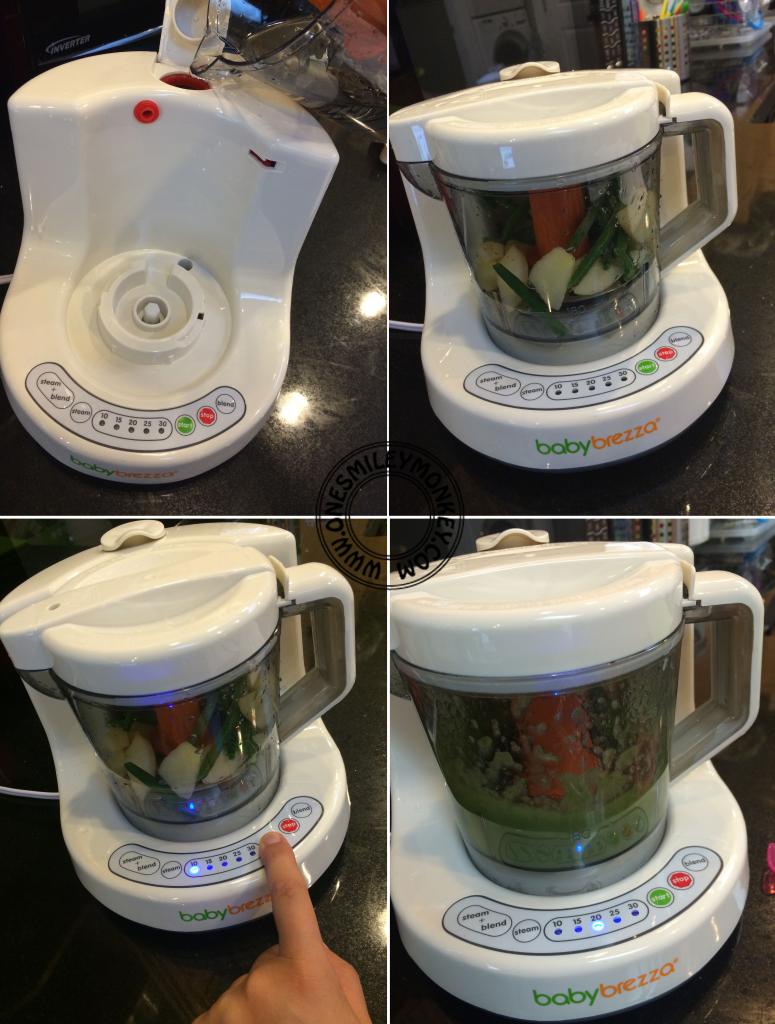 Below is a little video showing how I make my son's apple sauce using the Baby Brezza. It takes me 3 minutes to prepare and set up and 15 to steam/blend.
Tip: Before the first use wash the bowl and blade, run a 10-15 min steam cycle with an empty bowl, then wash again. I didn't do this and my first batch of food smelled/tasted a bit like "new" plastic, I had to threw it out. The smell/taste was gone after the empty cycle and I had not other issues after that.
Additional Information:
Capacity: Bowl holds up to 2 ½ cups
Dimensions: 7.75″ wide x 7″ tall x 9″ deep
Weight: 3.3 pounds
Where to buy:  Click here
Recipe book available online HERE
Check out this  FREE E-book on why to make your own baby food
Disclosure: I received a sample of a product to facilitate my review. No other compensation was provided and all views and opinions stated on this post are 100% my own.