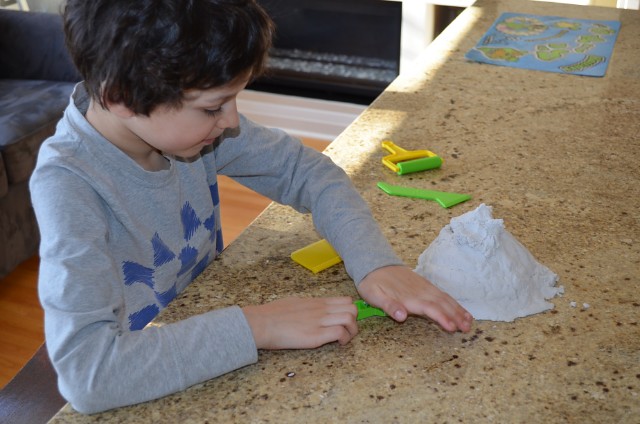 SANDS ALIVE
by Jen Shragge
It has been a long, cold winter here on the East coast. Between the cold and our new addition we have spent our fair share of time inside lately. I am always looking for crafts or activities for my big kid to do independently since I often have my hands full with baby. We have the usual suspects around the house such as stickers and play-doh, but they are often short-lived activities since he isn't exactly wowed by the same old, same old. With March break coming up I knew that I was going to have to come up with some new ideas and come up with them quick.
We recently got a Sands Alive starter kit and he literally said "wow" when we opened up the box and examined the contents. We had seen the product last summer at a good friend's house. Her son had been playing with it for some time and really loved it. She highly recommended it (plus she's a teacher and is always on the up and up with cool new kids products, so I trusted her judgement). The kit included one bag of the sand (1.5 lbs) as well as 4 tools to use to cut and mold the sand into shapes.
The sand itself is water soluble, 100% non-toxic and antibacterial. It feels somewhat like a cross between play doh and actual sand, but it's completely dry to the touch, which made clean up a breeze. D played with it at the kitchen bar while I made dinner for at least half an hour, which for him is pretty long, and he even ran to the basement to track down some outdoor sand shape makers to add to his shape-making ability. I asked him what he thought and he said he loved it. When asked why, he was clear that he really liked making shapes with it and liked that the sand wasn't sticking to his hands.
Storage is counter intuitive in that you must store it in an open container without sealing it (or even a bowl) to ensure that it won't dry out. I did find the clean up slightly messier than the promotional video would have you believe but I did find it very easy to vacuum up. With a MSRP of $19.99 for the starter kit, Sands Alive would make a great March break activity with lots of longevity to be used over and over again. Sands Alive is available at Chapters Indigo and online at chapters.indigo.ca.
LEGO PLAY BOOKS
by Angela V
Just like Jen I am always looking for crafts or activities for my 4-year-old to do independently. He loves LEGO and he has a large collection of bricks so he spends a lot of time building LEGO structures. We recently received a couple of LEGO books that are just perfect for him during March Break.
The LEGO® Play Book is packed with great tips and tricks and tons of ideas for building new things. From swimming pools to castles, beds, halloween stuff, animals and more. The book features more than 200 amazing models to build!
The LEGO® Play Book is a must have for fans of LEGO building sets. My son loves the amazing colourful photography in each page and he has been building new structures and creatures since we received it.
We also got the LEGO® Legends of Chima™: Character Encyclopedia, included with this book was a unique minifigure. My son was super excited to get a LEGO minifigure with the book and he asked to open it and put it together as soon as he saw it. We own many LEGO books and this was the first time he had one that actually came with LEGO.
The LEGO® Legends of Chima™: Character Encyclopedia features tons of fun facts on the different characters, variants of each minifigure, and the various vehicles, weapons, and back stories that make up the LEGO® Legends of Chima™ world.
If you have a little LEGO lover then this book is the perfect addition to their collection. I really love not having to buy him new sets but instead giving him books with ideas so he can use his imagination and creativity to build new worlds and create new stories.
These and more fun LEGO books are now available at your local Chapters Indigo store for under $20 and online at chapters.indigo.ca.
What is your go-to indoor or school break activity?
Disclosure: I received a sample of a product to facilitate my review. No other compensation was provided and all views and opinions stated on this post are 100% my own.