Mega Bloks First Builders A-B-C School Bus {Holiday Gift Idea}

By Contributor: Brittany Hamilton
My little ones have been enjoying learning how to build things. Recently we were sent a Mega Bloks First Builders A-B-C School Bus to try out. My three year old and 18 month old were very interested. Before letting them see it, I took the time to take it out of the package and put the stickers on. Once the stickers were on I let them see the pieces and off to building everything we went!
Everything went together nicely. My daughter was able to build and take apart very easily. My son was able to take apart well but really wasn't interested in putting things back together. I had the school bus made and both children took turns pushing it all around the house. I was impressed with the quality of materials used. I found this set to be very durable. My son loved the colors and my daughter was interested in the stickers on them. I took her interest in the stickers as a great opportunity to start working more on our letters!
This toy is still being used often from our toy room. It is also a set we are considering for gifts with the upcoming holiday season!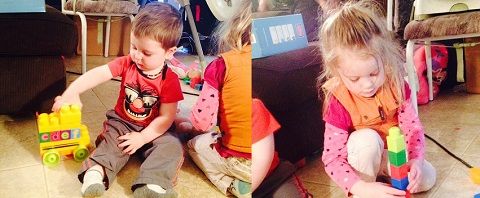 Disclosure: I received a sample of a product to facilitate my review. No other compensation was provided and all views and opinions stated on this post are 100% my own.
The following two tabs change content below.
Brittany Hamilton
Brittany is a single mom to 5. She works full time out of the house within a family run business and runs an online co-op. Her family is her passion and writing is her chance to unwind.
Latest posts by Brittany Hamilton (see all)