Robots, Slime and Blasters, three things my boys love! The new Ready2Robot product line incorporates all three and features collectable toys for kids that lets them build, mix and match custom 'bots, and battle their friends in a robot-brawl inside of the Fightanium Arena.
We were given a chance to check out the new line of toys, and the boys spent some time unboxing and playing with them. They were super excited to build them and get playing.
Here are all the sets they played with and our thoughts on each:
Ready2Robot Singles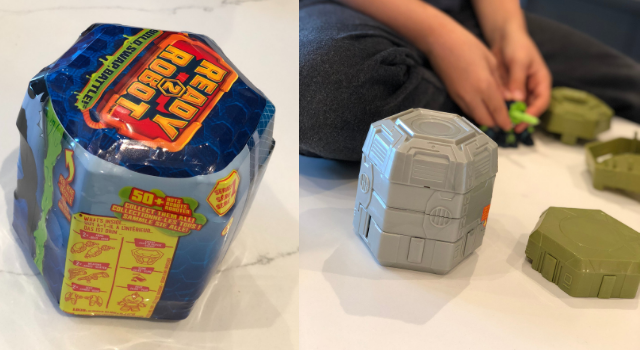 Which Bot Brawler will you get? Unbox your parts, build your Mechbot and insert your pilot for battle. Mix and match your Bot Brawlers to build bigger battles!
Our thoughts: The toy robot came segmented in individually wrapped plastic bags inside of a plastic container, and I liked that the kids had to unwrap and open everything then build the robot before they could play. They had lots of fun putting this together and playing with it. I recommend building the robot first and saving the slime to open last. Inside of the slime canister, there is a small pilot.
Ready2Robot Bot Blasters

Get ready to blast your competition. Load your weapons, build them onto your Mechbot and fire!
Our thoughts: This set included a spring-loaded missile to blast opponents, the boys got to build them, load them and battle. Goes together with the other sets and it can be attached to the mechbots, it was fun for the kids to play with as well.
Ready2Robot Battle Pack

Battle right out of the box with 2 Mechbots and weapons included! Build your Mechbots, insert your pilots and create epic battles. Mix and match your weapons and bots for customized battles!
Our thoughts: This set contains an exclusive Ready2Robot pod and Bot Blaster plus a bonus Mechbot included for battling right out of the box, so no building necessary for that one. The kids enjoyed opening and assembling the mystery Mechbot and getting the pilot out of the slime.
I love the size of these because they don't take a lot of space and can be taken in a backpack when the kids want to play with them on-the-go. The robots are roughly 3" tall x 3" wide x 2" deep (assembled).
Ready2Robot Pilots

Your pilots are trapped in slime. Unbox each pilot and add them to your battle for tag team or head to head competition. Mix and match pilots and Mechbots to create 1000s of customizable Mechbots.
Our thoughts: This set was a hit with the boys, there were four pilots that came trapped in canisters filled with slime. They got to free a couple each, and it was super fun. If your kids love slime then I recommend a pack of these to provide some entertainment. Tip: Set these up for the kids away from the couch or any fabric as the slime is sticky and it can get messy!
Ready2Robot Big Slime Battle
Ready2Robot Big Slime Battle comes with over ten hidden chambers and more than 50 surprises! You control the unlocking of surprises with the slime tube chamber! Build, mix & match custom 'bots and battle your friends in a robot-brawl! Add on your blasting and slime weapons to take your battles to the next level! Store all your Mechbots in the Fightanium Arena when done battling for easy transporting. Exclusive Mechbot characters and accessories.
Our thoughts: This has to be the ultimate Ready2Robot set! It comes with 2 Mechbots, 4 Mini-Bots, 6 Slime Pods & 6 Slime Pilots. With over ten hidden chambers to unlock and 40+ battle weapons and accessories, kids can customize their Mechbots for battles in 100s of ways! So much fun! We didn't get a chance to try this one but I can see how all of their robots could fit in it and it would be great for keeping things organized.
We had lots of fun trying out the new line of Ready2Robot toys, and I am sure the boys have many hours of robot play ahead. If you want more info regarding the line or to see where you can purchase each set, visit their website HERE.
Disclosure: This is a partnered post with Ready2Robot. However, all opinions and views on this post are 100% my own.