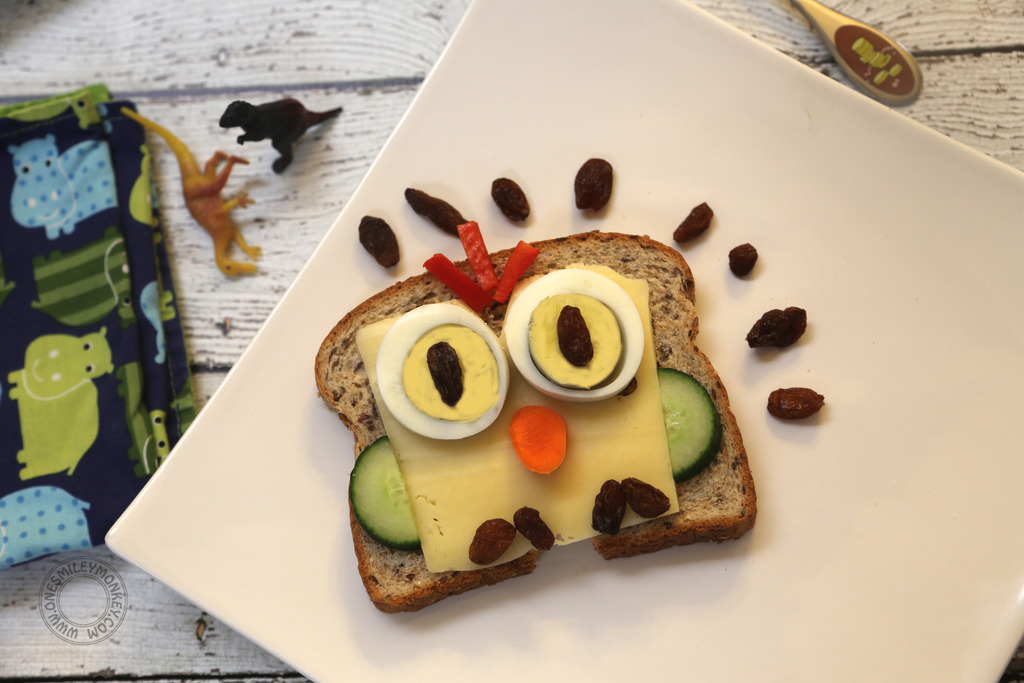 These cute owl sandwiches for kids are the easiest and tastiest creative sandwiches I make for my boys. These are lots of fun and the boys both love them.
I really like that these have eggs, cheese and vegetables so they are nutritious and healthy. Eggs are high in protein and filled with nutrients such as vitamins A, D and E, folate and iron. Tasty and good for them!
Nutritious Owl Sandwich
Adorable owl sandwich with boiled egg and cheese, a fun, simple and nutritious breakfast recipe for kids!
Ingredients
One hard-boiled egg-
Slice of Bread-
Slice of Cheese-
Piece of Carrot-
Piece of Red Pepper
Slice of Cucumber Cut In Half-
Small Box of Raisins
Instructions
1. Hard boil the egg, tip: boil the water first and then drop the egg in after it is boiling, this will make it easier to peal. Boil for 12-14 min.
2. Toast the slice of bread and put the slice of cheese on top.
3. Cut the egg into slices and decorate the bread with them, use the egg for the owl's eyes
4. Use the piece of carrot for the owl's nose
5. Use the cucumbers for the wings
6. Cut the red pepper to resemble feathers on the top of the owl's head.
7. Use the raisins for the final touches, adding eyes on top of the eggs, feet and other decorations around the plate.
Get creative!
Cute Owl Sandwiches for Kids