I recently posted some stories about the Dyson Corrale Wireless Straightener on Instagram, and I got a lot to questions about it. A lot of people didn't even know Dyson released a hair straightener to add to their line of hair styling tools. So I decided to write a full review with my thoughts on it, and today I am sharing it with you below.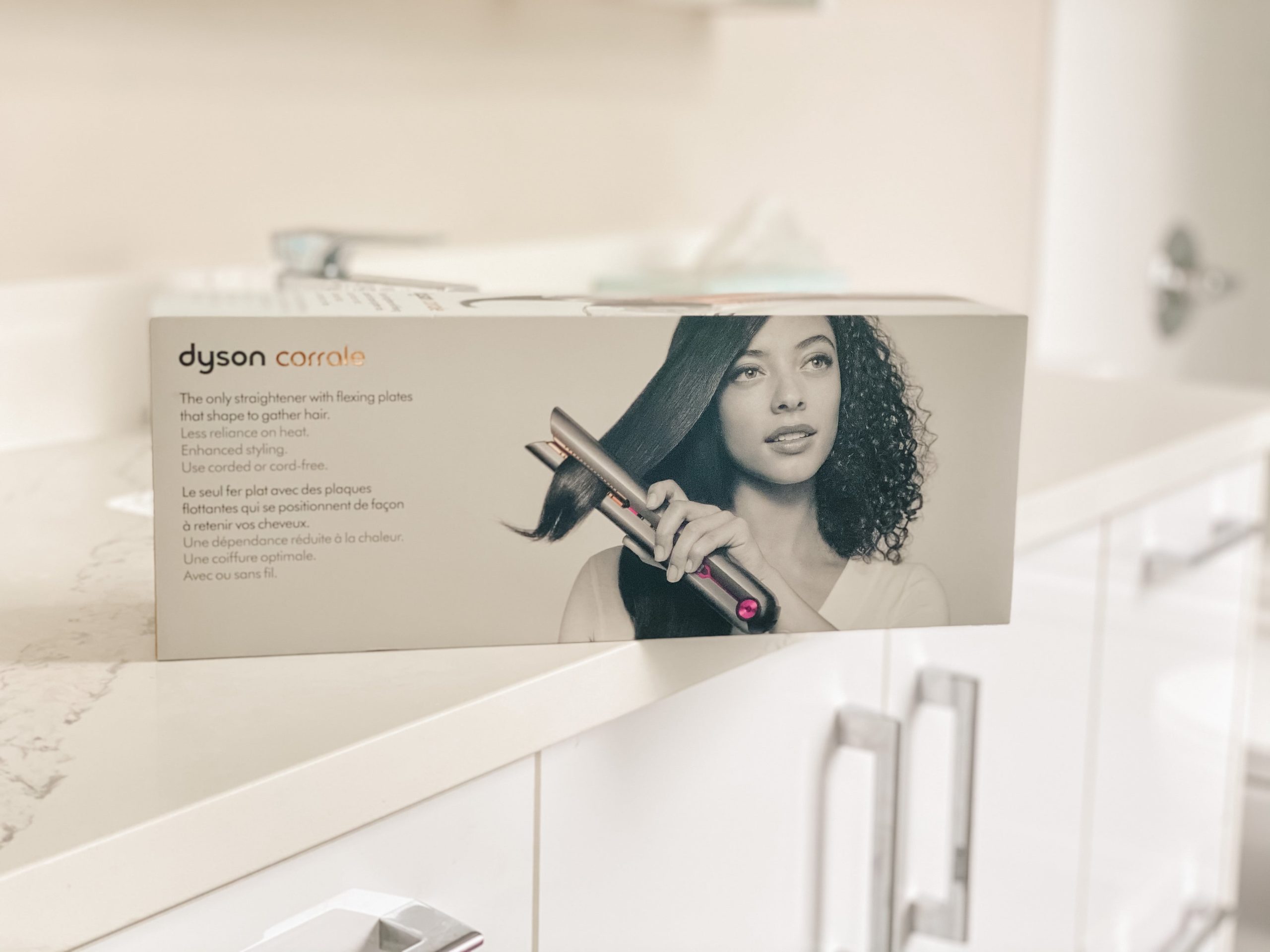 Dyson Corrale Cordless Straightener Review
I purchased the Corrale Straightener about two months ago, and I have been using it twice a week since. I have naturally wavy, curly, hair. I also have very thick, long hair and I have a lot of it. Hairstylists often underestimate how much hair I have and end up running out of product, and doubling it in the middle of a colour. That also means styling my hair takes some time.
I already own the Dyson Supersonic hairdryer and the Dyson Airwrap Styler set, and I love both. I was naturally excited to try their straightener as soon as they announced, as I wear my hair straight most of the time. My salon quality straightener was also dying, so it was the perfect time for me to invest in the Corrale.
Dyson claims the Corrale delivers the same performance of a conventional hair straightener, with half the heat and half the damage. By gathering hair, the flexing plates help you achieve the same style with less heat for 50% less breakage, reduced frizz and fewer flyaways.
The flexing plates have 15 micro-hinged segments on each plate. This means they can flex and adapt to hair, controlling it during styling. They are made of a manganese copper alloy, chosen for its strength, flexibility and thermal conduction.
The Corrale also offers cord-free versatility, with up to 30 minutes of cord-free styling, and a full recharge in 70 minutes. It also features three heat settings (330°F, 365°F and 410°F).
You are also supposed to be able to curl your hair with the Corrale. I tried once and ended up going back to my Airwrap Styler. I find that I never liked curling my hair with a straightener though, so using it to curl your hair may work better for other people.
PROS
Less Heat, Less Damage.
The biggest advantage of using the Dyson Corrale so far has been the ability to reduce the heat I used to need when using a straightener. I would often need to go as high as 410°F to achieve my desired look. I have thick and wavy hair, and anything less would require a lot of extra time and the hair wouldn't be as smooth it the end.
With the Corrale, I have been setting the heat to the lowest setting (330°F), I find that I can stick to the lowest heat setting and get the same results I was getting with my old straightener. It means I am also noticing less damage.
If you are looking to get pin straight Jennifer Aniston like hair, you would probably need to go higher in temperature. I am sticking to the lowest setting, and it works for my hair, I love having a bit of volume.
Cordless Versatility
I love the fact that I can use the straightener anywhere. I can do my hair downstairs in the main floor's bathroom, or the basement. If the kids need help with something, I can walk around while doing my hair and help them with whatever they need. So perfect!
This means multi-tasking when needed, and this is a great straightener to take with you when travelling, or on the go. You can take it to the gym, or you can leave it in your car when going out, ready to use when you need a little refresh.
The Dyson Corrale has a Flight-ready feature that disconnects the battery, designed to adhere to International Civil Aviation Organisation (ICAO) regulations so that you can bring it with you in your carry-on. It also has Universal Voltage, so you can charge it while you're abroad.
Less Time Styling
I have lots of hair, and it takes me about 30 minutes to straighten all my hair with my conventional straighter. Note that this is starting with totally dry hair.
With the Corrale, I noticed it only takes me about 20 minutes to style my hair, saving me ten precious minutes that I happily welcome into my busy life.
Easy to Use
I love how easy to use the Dyson Corrale is, the OLED screen and buttons allow you to easily pick the heat setting you prefer, from (330°F, 365°F and 410°F) – (, and the chime will indicate that your machine is charging properly. No other controls or settings to mess around with, straight to the point. Love that.
I also love that the Corrale is cool to the touch so no scorched scalp or fingers anymore!
I was worried about the increased weight due to the battery, but the design makes it super easy to hold, and it is ergonomic. You also use a looser grip already because of the way the flexing plates gather the hair.
CONS
Price
This has to be the biggest one. It is a very expensive tool. It is available for $649.99 CDN, and with tax, I ended up paying $727.99. It is pretty pricey, especially if you compare it with other hair straighteners in the market. But like any other Dyson product, you are purchasing new technology that is impressive and pretty unique, and that has a high cost.
Battery Life
Dyson claims you get 30 minutes of cord-free styling, but it depends on the settings and your styling method. I found it was closer to 20-25 minutes for me. They recommend starting with a full charge, and it makes sense because if you run out of power in the middle of styling, you won't be able to simply plug it in and continue using it. You'll have to wait at least 10 minutes for it to charge enough for you to continue using it. A full battery recharge also takes about 70 minutes. So not being able to use it right away while plugged in if the battery is completely depleted is a big con.
Magnetic Charger
I am not a big fan of having a magnetic charger for this, because it is very easy to accidentally disconnect it off the straightener when you are using it. I did this a few times and didn't realize it wasn't charging until later when the battery was almost dead.
Should I Buy the New Dyson Corrale?
It really depends on how you are planning to use it and your hair type. I love that I can use a lower temperature to get the same results I was getting before with my conventional straightener, on a higher temperature. I am not a fan of the battery life, and even though it isn't a deal-breaker for me, it is something to consider if you are looking for a straightener with extra battery life.
If you love Dyson products, and it is in your budget, I say go for it; you will love the versatility and doing less damage to your hair due to lower temperature use. Otherwise, I recommend you do some research and find out about other cord-less straighteners available in the market.