"If there's something strange in you neighborhood
Who you gonna call? (ghostbusters)
If there's something weird
And it don't look good
Who you gonna call? (ghostbusters)"
The Ghostbusters theme song has been stuck in my head for weeks! The boys have been watching episodes of The Real Ghostbusters series on Netflix and they are obsessed. I remember the  Ghostbusters series was one of my favourites as a kid and I love that now my kids are enjoying it as well.
Playmobil has released the perfect toy line for Ghostbusters fans of all ages. We received the largest set in Playmobil's new Ghostbusters line to review and the boys have not stopped playing with it since we recevied it. The Ghostbusters Firehouse stands 18 inches tall and it is packed with plenty of accessories for hunting down ghosts, including a detachable proton pack and proton laser, ghost trap, silicone slime splatters, and more.
NEW Playmobil Ghostbusters Firehouse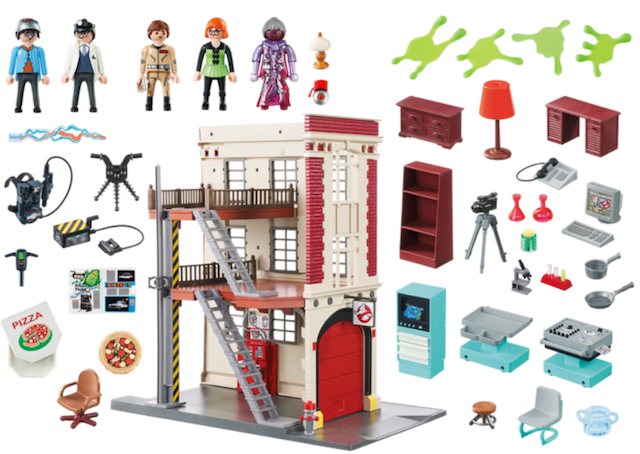 The firehouse comes with four characters and a ghost and it has a miniature fire pole that the Playmobil figures can use to slide down to the garage, plus all the equipment necessary to catch the ghosts. I love all the little details in the set, including the box of pizza, the PC computer and keyboard, newspaper, corded telephone and desks plus the big ghost containment unit.
[wonderplugin_gallery id="18″]
It took us about 45 minutes to put the set together and I had a fantastic little helper. Below is a video with an up close look of the new Ghostbusters Firestation set.
AGE: 6+ years | MSRP: $99.99
AVAILABILITY: Amazon, Toys "R" Us, Mastermind Toys, Indigo, and Hudson's Bay
Disclosure: This is a partnered post with Playmobil. However, all opinions and views on this post are 100% my own.