Looking for a list of the best Disneyland Toddler Friendly Rides? Going to the Happiest Place on Earth with your toddler? I used to think that a child should be 5 or older to actually enjoy going to Disneyland. But after a mostly un-planned last minute trip to Anaheim with our 2-year-old last month I learned that young toddlers can also have a great time at Disneyland.
We had an amazing three days at Disneyland and Disney's California Adventure Park with our son. If you have the chance to go, but you are unsure about taking your toddler, you should definitively go for it (kids under 3 don't pay for entrance and eat free). There are tons of things to do for the entire family, and even if they don't remember everything, you will still have some amazing memories and photos to share with them later.
When to go:
We ended up going during off-peak season, and that meant we avoided crowds and long line-ups. It was perfect because we had a max of 5-10 minutes wait for popular rides and we walked-in most rides right away without any wait. It also meant that we could go on rides that we loved again and again without even getting out of the ride to get in line again.
Toddlers are not known for their patience and going to Disneyland during the off-peak season means you don't have to worry about long waits before going on rides. If you can, I recommend visiting Disneyland during their lowest attendance times: January (except New Year's Day) until just before Presidents' week in February, the week following Labor Day until just before Thanksgiving week or the week following Thanksgiving until the week prior to Christmas.
Try to plan your visit for weekdays too. We were there on a Thursday and Friday, and it was wonderful, no crowds and no waits. The weekend was way busier, especially in the afternoons.
What to take to Disneyland (must haves):
A comfortable stroller:
Your toddler will get tired of walking right after you walk pass the main gates. You will be walking long distances all day, and you need a good stroller that's comfortable for your little one. You can always rent a stroller at the park for $15 per day if you decide not to bring your own.
Before you line-up for rides you must park your stroller outside the rides in a designated area, so make sure to bring something you can put on your stroller to help you identify it easily. I used an old scarf that was colourful and easy to spot.
Hand Sanitizer or Disinfecting Wipes:
Because you can't run to the washroom to wash their/your hands after each ride and when you get on rides you and your children will be touching handles, seats and everything else. Especially important during flu season!
Healthy Snacks and Water :
You want to have healthy snacks on hand for your child. You don't want a hungry/thirsty cranky toddler all morning! You can always purchase snacks inside the park but be prepared to pay a lot for them. We had lunch at Disneyland during the three days, and I wasn't really impressed with the food. The meals were expensive and the food wasn't really good. I heard people saying that restaurants at Downtown Disney were a lot better than the restaurants inside the park. Something else to try!
Sunscreen, Sunglasses, Raincoat:
If you go to Disneyland during the rainy months, then don't forget to pack a raincoat and stroller rain cover. If you are going during the warmer months then take sunglasses, sunscreen and always wear layers for sudden temperature changes. Note: Remember to use sunscreen protection even during an overcast sky and when it's not sunny outside.
A Small Camera and Extra Battery:
I took our smaller camera because I didn't want to carry my big DSLR all day and get in the rides with it. You can get wet when you go on some rides so you shouldn't have your expensive camera out just in case. Bring a battery replacement because you will take tons of photos and your battery will run out at some point.
Extra Socks and Comfortable Shoes:
If your feet get wet during a ride you can easily change socks, bring an extra pair for you and your child. You will be walking a lot, so you want to be comfortable, don't wear heels! I saw a woman wearing heels as we were entering Disneyland and I have no idea what she was thinking. I hope she brought some comfy shoes to change into later.
Diapers, Wipes and a Change of Clothes:
I mean you already carry all of that if your toddler isn't potty trained anyway, right? Just make sure to pack a few extra diapers if you are planning to stay at Disneyland all day. Disneyland also has a baby center that includes facilities for diaper changing, nursing and bottle feeding. They also sell diapers, wipes, baby food in case you forget to bring them or need extras.
Disneyland The Best Toddler Friendly Rides
When you arrive at Disneyland head to Fantasyland first, Fantasyland has the big castle as well as several gentle rides themed after Disney movies. Many of our Disneyland Toddler Friendly Rides are there.
Gentle & Fun Rides for Toddlers at Disneyland*:
FANTASYLAND:
King Arthur Carrousel
Casey Jr. Circus Train
Dumbo the Flying Elephant
Mad Tea Party
Pixie Hollow Meet and Greet
Storybook Land Canal Boats
"it's a small world"
-Pinocchio's Daring Journey, Snow White's Scary Adventures and Mr. Toad's Wild Ride have dark, loud sounds and sudden movements that can scare younger children. My 2-year-old was o.k. in those rides, but I think he was a bit shocked with the loud noises and sudden scary sounds. I recommend avoiding these if you have a young toddler.
CRITTER COUNTRY:
The Many Adventures of Winnie the Pooh
ADVENTURELAND
Jungle Cruise (a lot of fun for toddlers)
Tarzan's Treehouse
FRONTIERLAND
NEW ORLEANS SQUARE
Pirates of the Caribbean (for older toddlers, there are loud sounds, and it's very dark inside)
Disneyland Railroad
MICKEY'S TOONTOWN
Goofy's Playhouse
Donal's Boat
Chip'n Dale Treehouse
Disneyland Railroad
Mickey's House and Meet Mickey
Minnie's House
TOMORROWLAND
Finding Nemo Submarine Voyage (amazing!)
Disneyland Monorail
Autopia (older toddlers – minimum height of 32″)
Buzz Lightyear Astro Blasters (our 2-year-old loved it!)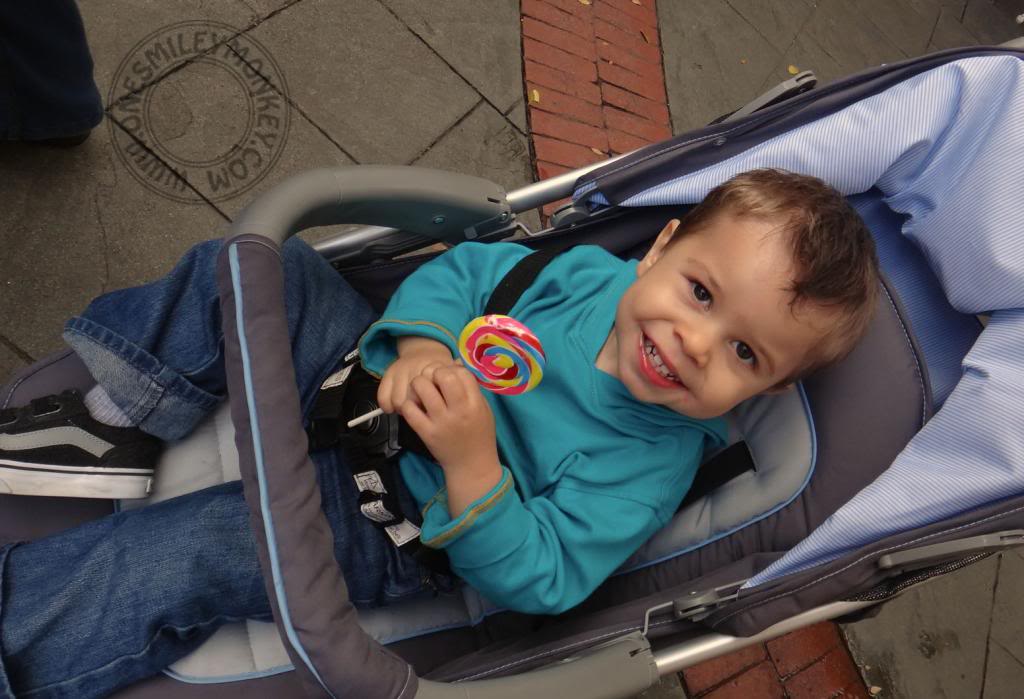 Gentle & Fun Rides for Toddlers at Disney's California Adventure Park*:
PARADISE PIER
Golden Zephyr (my son loved this one)
The Little Mermaid-Ariel's Undersea Adventure (magical!)
King Triton's Carousel
Toy Story Midway Mania
Mickey's Fun Wheel (Ferris wheel)
CARS LAND
Luigi's Flying Tires (min height 32″)
A BUG'S LAND
Francis' Ladybug Boogie
Flik's Flyers
Heimlich's Chew Chew Train (so cute!)
"It's Tough to be a Bug!" is a 3D show about bugs and it is definitively scary for young toddlers. Realistic spiders and insects jump "out" of the screen, and it's loud and dark.
HOLLYWOOD LAND
Muppet Vision 3D (for older toddlers that would wear 3D glasses)
Monsters, Inc. Mike & Sulley to the Rescue!
Turtle Talk with Crush
Sorcerer's Workshop
* Note that each child is different. The lists feature the rides that our 2-year-old really enjoyed. As a parent, you will know what your child will like and what they would find scary. Use your own judgment before getting on a ride.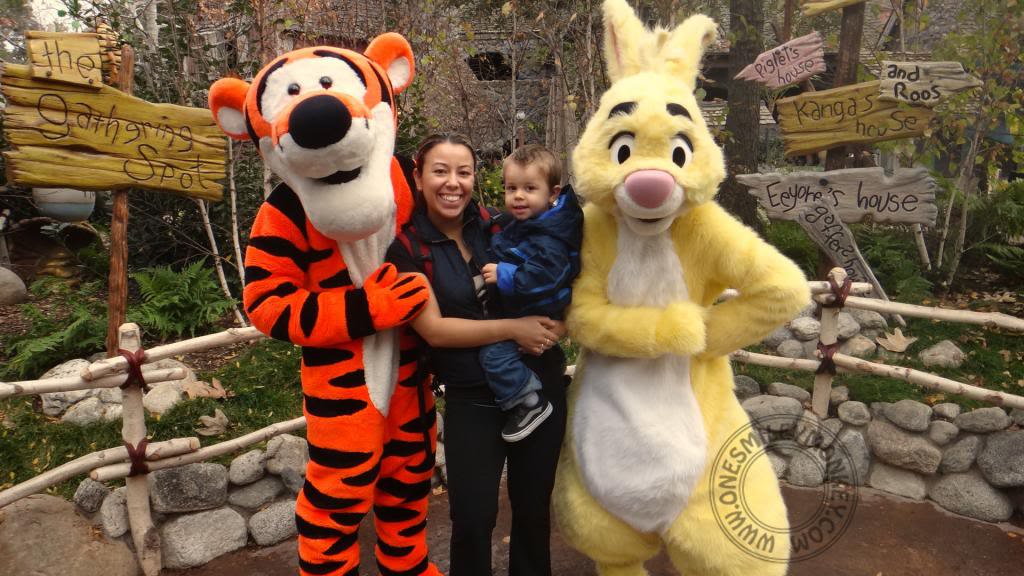 Other General Tips
Familiarize your toddler with all of Disney's characters before your trip. There will be characters walking around the park and photos with them are always great. Note that there may be long line-ups and the characters have a very strict schedule for breaks. They can and will go on a break even if you are the next person in line. Be prepared for disappointment and more waiting after waiting for a while, especially during busy season.
When you arrive at Disneyland locate the Lost Children center and get a sticker for your child. You can put your name and phone number on it. (In case your child gets separated from you at any point)
Arrive early at opening time but allow 5-10 minutes after opening to miss the big rush. No big line-ups at the gate then.
Don't feel rushed to do everything. Take your time and enjoy! Remember you are at The Happiest Place on Earth after all!
Don't force your child to get on a ride or take photos with characters when they don't want to. Avoid temper tantrums and try again later.
Grab a map at the gates, so you know where you are going. Try to plan your day and know the heigh requirements of the rides you are planning to go on.
Familiarize yourself with the FastPass system and use it! Don't wait in line if you don't have to.
Helpful links:
All Disneyland Rides & Attractions
All Disney's California Adventure Park Rides & Attractions
Height Requirements for All Attractions
Ready to purchase your Disneyland tickets? Use Park Savers to save over gate pricing!
There are always many wonderful new things to learn when you go on a holiday with your little one. Disneyland is truly magical, and your toddler will love it there. If you have been to Disneyland with your toddler, what were your favorite rides or things to do/see there?
Note: Check out our latest post from our Jan 2016 visit to Disneyland with TWO kids, a toddler and a kindergartener. Some great tips on getting the most out of your visit with younger kids! HERE.
Disclosure: This is NOT a sponsored post. I just wanted to share our experiences at Disneyland and Disney's California Adventures Park with my readers.